Knowza Learning Solutions 
Knowza Learning Solution is a UK-based educational service providing company that is established with the sole purpose of aiding education providers with smart and effective solutions, by carefully designing and crafting their course content, website and social media campaigns. We are an in-house team of talented and experienced instructional designers, artists, creative professionals and learning experts.
Our statewide advisory team has developed a performance-based instructional design system, effective for the academic industry.
From setting up Learning Management System (LMS), Virtual Learning Environment (VLE) and Customer Relationship Management (CRM), both cloud based, and desktop based, to Search Engine Optimization (SEO), we do it all.
Academic team at Knowza comprises of highly skilled and professional curriculum designers and researchers dedicated to educational advancement, who are expert in their respective subject fields. They collaborate to build the best learning theories and practices via curriculum design and educational consultancy.
Our creative team knows exactly how to build and design the perfect website, digital artwork and animation. It is a dream team with the most creative and talented minds working together to make your website look professional and eye catching.
Mission: Our mission is to develop advance tools for curriculum design, offer inexpensive, user-friendly business model that makes it easy for an educational organization to have an effective learning and training system.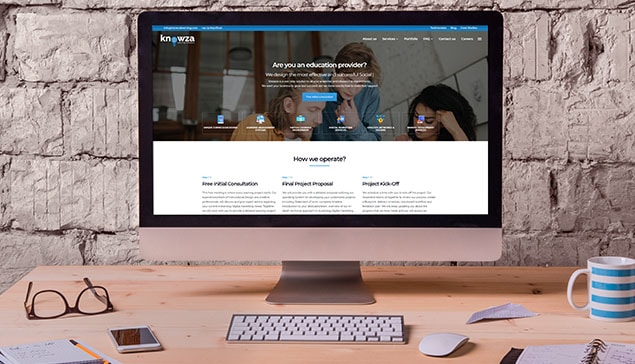 Step
01
Free Initial Consultation
This free meeting is where every learning project starts. Our experienced team of Instructional Design and creative professionals will discuss and give expert advice regarding your current e-learning/digital marketing needs. Together we will work with you to provide a detailed learning project plan.
Step
02
Final Project Proposal
We will provide you with a detailed proposal outlining our operating System for developing your customized projects including: Statement of work, complete timeline, introduction to your dedicated team, overview of our in-depth technical approach to eLearning/digital marketing, project deliverables, and detailed budget estimate and project hourly breakdown.
Step
03
Project Kick-Off
We schedule a time with you to kick-off the project. Our respective teams sit together to review our process, create a Blueprint, delivery schedule, storyboard workflow and feedback plan. We will keep updating you about the progress that we have made and you will always be welcomed to give suggestions throughout the project.